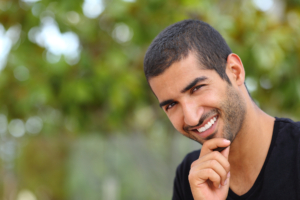 In short, yes, a cosmetic dentist can fix your smile! The longer version of the answer is a little more complex. Every patient's journey to their ideal smile is different because we are all unique. Before you even begin your cosmetic dentistry journey, you may require restorative care, such as a dental crown, filling, or dental bridge. Gum disease treatment is also necessary for some patients.
Once you have reached optimal oral health, the cosmetic procedures can begin. While you may have an idea of what treatments you need, a cosmetic dentist can explain all of your options in detail and work with you to create a treatment plan that meets your unique smile goals.
Continue reading to learn about your cosmetic dental treatment options.
Cosmetic Bonding
Cosmetic bonding is a conservative and affordable option for patients with mild to moderate dental imperfections such as a chipped tooth, misshapen tooth, a small gap, or discoloration. The cosmetic dentist utilizes composite resin—the same material used for tooth-colored fillings—to correct these issues. The material is easily manipulated to the correct shape and color, so the finished product is completely natural looking.
Unfortunately, cosmetic bonding isn't usually a permanent solution and patients may need to have the procedure repeated every few years.
Gum Contouring
Have an uneven gum line or a gummy smile? There's a solution for that! Some dentists offer an old-fashioned treatment that requires scalpels and other tools that would make any person wince at the thought. Thankfully, modern technology has made this procedure MUCH more comfortable.
At Metropolitan Dental Care, our cosmetic dentistry experts offer laser gum contouring—a minimally-invasive, comfortable alternative treatment. With lasers, our cosmetic dentist is even more accurate, and the healing process is much faster.
Teeth Whitening
Many patients have straight, perfectly shaped, and correctly spaced teeth, but struggle with keeping a bright smile. We can thank some of our favorite foods and beverages for that. There are so many whitening products available at the store, yet many of them fail to produce significant results.
Professional teeth whitening from a cosmetic dentist is the best way to gain a dazzling smile. In just one short visit, your teeth could be up to nine shades lighter because of the combination of professional-grade bleaching agents and laser/light technology.
In-office teeth whitening is the perfect solution for patients with extrinsic dental staining. For intrinsic dental stains, consider porcelain veneers.
Orthodontics
For patients with crooked, gapped, and crowded teeth, orthodontic treatment is the best option. Today's braces aren't like the ones you remember from middle school; they are much more subtle. Invisalign® clear aligners have become the most popular option among teens and adults, and they are suitable for almost every orthodontic need.
For patients with more severe dental misalignment, traditional braces are recommended. Have no fear! Even traditional metal braces have come a long way. The wires are much thinner, and dentists now offer clear brackets, so the braces are less noticeable.
Porcelain Veneers
Porcelain veneers are commonly known as the fix-all solution in cosmetic dentistry. Veneers can correct the following issues:
Chips
Discoloration
Gaps
Misalignment
Misshapen teeth
Uneven teeth
Porcelain veneers are designed by you and your dentist and created by an experienced dental lab technician. Whether you need one veneer or enough to cover your smile zone, we guarantee you will be satisfied with the results!
Denver Cosmetic Dentist
The importance of a beautiful smile cannot be overestimated—it is beneficial for your overall well-being! Contact our friendly team today at (303) 534-2626 to learn which treatment is right for you.