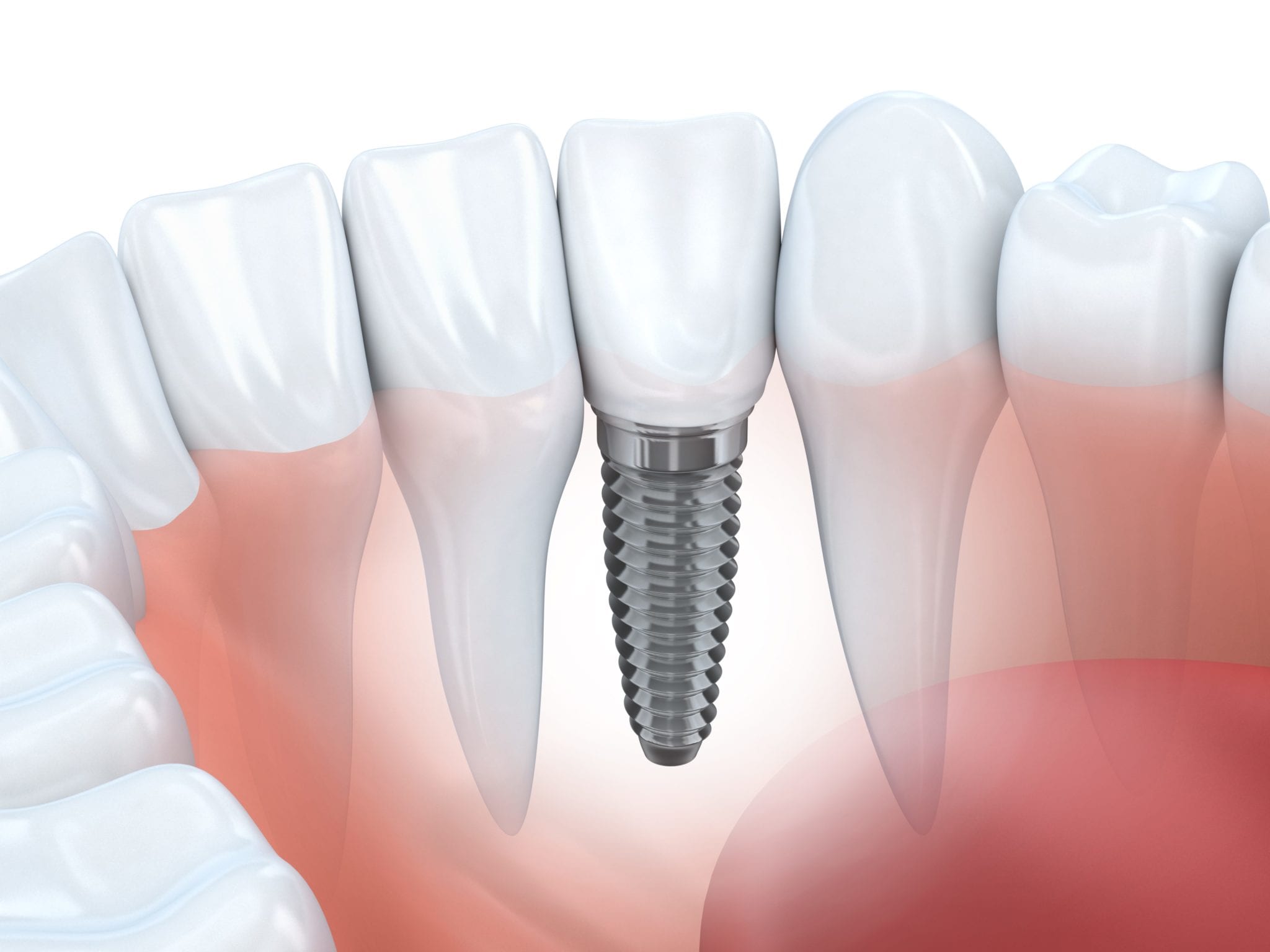 metro dental care –
dental implants
dental implants provide a lasting solution for missing teeth
Many things can lead to tooth loss. For instance, some patients lose a tooth or teeth from trauma. Car accidents, falls, crashing a bike, and even boxing can knock a tooth out.
Other patients lose a tooth or teeth due to advanced periodontal disease. Some patients with severe decay require an extraction. Finally, some patients never form a tooth in the first place (hypodontia).
problems caused by missing teeth
A missing tooth comes with consequences. First of all, the patient may deal with emotional issues and lack of self-confidence. For example, many patients missing a tooth either stop smiling or hide their smile.
Given time, however, a missing tooth causes physical issues as well. The gap leaves the remaining teeth vulnerable to shifting and drifting. This affects your speech, as well as your bite and chewing. Therefore, it can affect nutrition.
Moreover, crooked teeth are harder to keep clean. This puts the patient at an increased risk of tooth decay and gum diseases. Both of these conditions can lead to further tooth loss.
Furthermore, a missing tooth root causes destruction of jawbone. Ultimately, further tooth loss can happen. In addition, the patient's face begins to take on an aged, sunken appearance.
smile restorations in denver, co
At Metropolitan Dental, we offer several tooth replacement options, whether missing a single tooth or many. It is our opinion, however, that the best option for most patients is a dental implant.
The reason for this is that dental implants are the only option that offers a permanent solution to restore the full functionality and aesthetics of your smile. They are also the only option that halts bone loss. In fact, dental implants encourage new bone growth.
Whether you are missing a single tooth or an entire arch, our Denver dentists provide dental implants designed to support custom-made restorations. This includes dental crowns, dental bridges, and complete dentures.
In addition, our practice is proud to have Dr. Mike Norouzinia, a board-certified periodontist, on staff to provide special treatment and care for patients receiving dental implants.
Implant-supported restorations provide improved oral health and a lasting alternative to traditional bridges and dentures. We offer a convenient downtown location for patients living in the Denver, CO, area.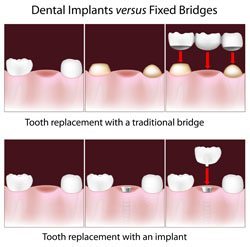 what are dental implants?
A dental implant replaces a missing tooth root. It looks similar to a screw, and the dentist inserts it into the jawbone.
Implants are made of titanium, which is not harmful or toxic to the human body. Equally important, titanium does not corrode in the presence of bodily fluids. Moreover, it bonds to bone and encourages bone growth. This process, called osseointegration, causes fusion of the implant into the bone.
After a period of three to six months, the implant becomes a permanent part of the jaw. At this point, the dentist will place a connector to the implant, called an abutment.
Once the abutment is in place, a dental crown, bridge, or dentures completes the restoration.
who is a candidate for dental implants?
Anyone missing one or more permanent teeth can be a candidate for dental implants. However, for successful implantation and fusion, the patient must have sufficient jawbone density.
Therefore, if the tooth loss occurred a long time ago, the patient may not have enough bone to support an implant. This is because of the bone degeneration that takes place when a tooth root is missing. In this case, bone graft surgery is needed prior to dental implant placement.
Bone grafts can be harvested from your own bone tissue or purchased from a tissue bank. After a bone graft procedure, several months of healing are necessary before dental implant surgery.
In some situations, however, mini implants can be used. These are smaller and less invasive than traditional dental implants.
types of implant-supported restorations
Since a dental implant only replaces the tooth root, another restoration is needed to replace the top of the tooth.
there are three options for implant-supported restorations:
Implant-supported dental crowns: For patients missing a single tooth or with sporadic tooth loss, we offer implant-supported crowns. A dental crown is a tooth-shaped cap that connects to the implant abutment. It is made of porcelain and customized to match the shape and color of your remaining teeth.
Implant-supported bridges: When tooth loss is isolated to one section of your mouth, a fixed bridge may be the best option. This allows for the replacement of one to three missing adjacent teeth. A dental bridge does not require an implant, but bridges supported by implants offer several advantages over traditional bridges.
Implant-supported dentures: Patients with extensive tooth loss may opt for dentures. Unlike traditional, removable dentures, implants allow for a permanent replacement. In most cases, four to six implants can support the entire upper or lower arch.
benefits of dental implants
At Metropolitan Dental, we believe dental implants are the best choice for long-lasting tooth replacement.
some of the benefits of dental implants include:
When tooth loss occurs, the remaining teeth shift. Replacing the tooth fills in the gap to keep your teeth in place.
Dental implants are the only permanent restoration option. Once placed, it fuses with the jawbone. This makes the implant more secure than your natural teeth.
Aside from a few minor risks related to dental implant surgery, implants are safe. They have been placed, studied, and researched for over 35 years and are proven to be safe and effective. Since they are made of titanium, you do not need to worry about corrosion or rejection. Titanium is non-toxic and non-harmful and integrates easily with the human body.
Prevents bone loss. The jawbone requires the support and stimulation of tooth roots to maintain its strength. When a tooth root is lost, the bone around where the tooth root was begins to deteriorate. This can cause more tooth loss. A dental implant provides the support and stimulation the jawbone needs.
Successful: Studies show 90 to 95 percent of implant placements are considered successful.
the dental implant process
First, you will have a consultation appointment with our board-certified periodontist, Dr. Mike Norouzinia. Part of this exam includes a series of scans and digital radiography (x-rays). Once Dr. Norouzinia has all the information needed, he will create a customized treatment plan based on your unique needs and preferences.
The next appointment will be your surgery day. First, Dr. Norouzinia will use a local anesthetic to numb the affected area. Next, he will make an incision in your gum line and insert the implant. Finally, he will stitch the gum closed.
After the procedure, your gum may be tender and sore. However, ice and over-the-counter pain medications should be enough to make it tolerable. The stitches dissolve on their own.
A week later, we will have you return to make sure everything looks good.
The next thing your implant needs is time. It will take three to six months for the implant to fuse and become part of your jawbone.
Once you have healed, Dr. Norouzinia will attach abutments to each implant. These small "caps" provide a solid base for restorations to firmly attach. During this appointment, impressions or 3D images will also be taken and sent to a lab. At the lab, trained technicians will customize your restoration.
Finally, when we receive your restoration, you will return for placement. Dr. Norouzinia will first check the fit. When satisfied, he will affix your new crown, dentures, or bridge to the abutments.
contact us
Do not let tooth loss keep you from smiling confidently. Dental implants can restore your smile, making tooth loss a distant memory.
To complete your dental restoration, Metropolitan Dental offers implant-supported crowns, bridges, and dentures.
You deserve a beautiful, lasting smile. Call (303) 534-2626 or contact us online today to schedule your consultation.