dental crowns can preserve the integrity of your smile
Dental crowns provide a resilient restoration for patients who have teeth that are too decayed or damaged to be repaired with a dental filling or onlay. They can be used to conceal and refurbish teeth that are chipped, broken, discolored, or unnaturally shaped, while also preserving their structural integrity. Designed from medical grade porcelain, tinted to match the natural shade of your tooth, a dental crown provides a durable and aesthetically pleasing result. It can also be used in combination with a dental implant to replace a single missing tooth.
Dental crowns, also referred to as "caps," fit securely over teeth to conceal a number of imperfections and restore strength and durability. Depending on your needs, they can be used for both restorative and cosmetic purposes. Dental crowns are typically recommended when the base of the tooth is healthy, but the surface has been cosmetically damaged or severely weakened from decay.
  A dental crown can repair a tooth that is:
Chipped
Broken
Decayed
Misshaped
Severely discolored or stained
Weak and at risk of breaking
Missing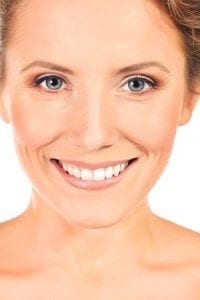 procedure for dental crowns
During your examination, one of our dentists will use state-of-the-art digital x-ray technology to examine your tooth and surrounding structures. If a dental crown is recommended, we can provide same-day treatment, reducing the number of office visits to help save you time and money. Patients who require a dental crown for replacing a missing tooth will first need to undergo dental implant surgery.
Before the procedure begins, a local anesthetic will be given to provide optimal comfort. The dentist will then carefully prepare the tooth, removing any decay and reshaping the enamel so the crown fits securely over the tooth and blends seamlessly with nearby teeth.
Once the tooth has been thoroughly cleaned and prepped, impressions will be taken using CEREC® technology. This eliminates uncomfortable and messy putty impressions. The digital impressions will be immediately uploaded to a nearby machine that will craft your customized crown to match the natural aesthetics of your smile.
When the crown is completed, the dentist will check that it fits comfortably before permanently bonding it to the tooth.  Once in place, you can enjoy restored functionality and a more attractive smile. Caring for your restoration is much like caring for your natural teeth. Brush your teeth at least twice a day and floss daily. We also recommend that you avoid chewing on hard candies, ice, and other objects, such as pen caps, so as not to damage your veneers.
If you are experiencing dental pain or sensitivity, or have a tooth that is missing or broken, you may benefit greatly from having a customized dental crown placed. Our dentists at Metropolitan Dental Care are equipped to provide the care you need. We offer two convenient locations in both Denver, CO and Lone Tree, CO. To schedule your consultation, contact our office online or give us a call (303) 534-2626.