dental implants provide a lasting solution for missing teeth
Tooth loss comes in variety of ways, and when it happens – you need a solution that can restore the full functionality and aesthetics of your smile. Whether you are missing a single tooth or an entire arch, at Metropolitan Dental Care, our dentists provide dental implants designed to support custom-made restorations, such as a dental crown, dental bridge, or denture. Implant-supported restorations provide improved oral health and a lasting alternative to traditional bridges and dentures. We offer two convenient locations for patient living in the Denver, CO and Lone Tree, COarea who are searching for an ideal tooth replacement option.
what are dental implants?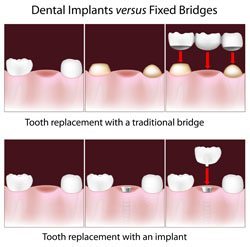 Dental implants are typically made from titanium and are similar in appearance to small screws. They are surgically inserted into the jawbone and intended to fuse with nearby tissues over a four to six month period and will become an integral part of your jaw. Dental implants are made to support a restoration and function much like natural tooth roots. Because of this, each time you bite down or chew, your jawbone remains stimulated by the dental implant. Unlike traditional dental bridges, nearby teeth remain intact and bone degeneration is not a concern. Implant-supported restorations are the only tooth replacement option available that replaces the entire tooth from root to crown.
who is a candidate for dental implants?
Candidates for dental implants include patients with good oral health who are experiencing any type of tooth loss. To qualify for dental implants, it's important that you have sufficient jawbone strength with no signs of gum disease or bone degeneration. If a significant amount of time has lapsed since losing your teeth, it is highly possible that bone loss has occurred. In such cases, our dentists can perform a bone grafting procedure to rebuild the jawbone. Bone grafts can be harvested from your own bone tissue, synthetically grown, or purchased from a tissue bank.
types of implant-supported restorations
Depending on your needs, there are different implant-supported options available, including:
Implant-Supported Crowns: For patients missing a single missing tooth or sporadic tooth loss throughout the mouth, we offer implant-supported crowns. These porcelain crowns are custom-made to match the natural aesthetics of your former tooth and will be permanently secured in place by a dental implant.
Implant-Supported Bridges: When tooth loss is isolated to one section of your mouth and includes one to three missing teeth in a row, a dental bridge is designed to fill in the gap. This device consists of at least one artificial tooth flanked by a dental crown on either side. Rather than affixing to abutment teeth on either side of the gap, it will be supported by two dental implants and serve as a fixed restoration.
Implant-Supported Dentures: For patients experiencing complete tooth loss in their upper and/or lower jaw, we offer implant-supported dentures. With advancements made in implant dentistry, most dentures can be supported with just four to six dental implants. Your restoration can be designed as a removable or fixed device depending on your unique needs and desires.
the dental implant process
The first step involves scheduling a consultation with our trained periodontist, Dr. Mike Norouzinia. During your exam, he will perform a series of scans and x-rays to ensure you are a good candidate for dental implants. These images will also give him the opportunity to create a treatment plan customized to your unique needs that will include the number of implants required and the type of restoration preferred.
On the day of your procedure, a local anesthetic will be given to numb the gums and jawbone. Dr. Norouzinia will then make an incision in your gum line and insert the implant. One implant takes about an hour to place. After the procedure is completed, you will undergo a several month healing period known as osseointegration. During this phase, the implants will become an integral part of your jawbone.
Once you have healed, a minor procedure will be required to attach abutments to the top of each implant. These provide a solid base for the restorations. During this step, impressions will be taken and sent to a lab where technicians will fabricate your restoration. In some cases, we can provide a same-day restoration using CEREC® technology. When the restoration is complete, it will be affixed to the abutments to restore your smile.
Don't let tooth loss keep you from smiling confidently. Our dentists at Metropolitan Dental Care in Denver or Lone Tree can provide you with a customized implant-supported restoration. Contact our office today online or call (303) 534-2626 to schedule your consultation. You deserve to have a beautiful and lasting smile.