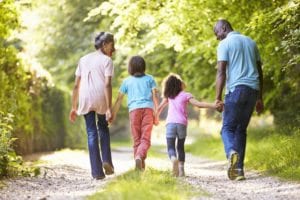 If your family is like most American families, you are overscheduled and overbooked. In your rush to keep every member of your family enjoying a rich and rewarding extra-curricular (or extra-professional) life, you probably feel like you don't have time to stop and think, let alone plan all your family's decisions with intention and mindfulness.
At Metropolitan Dental Care, we invite you to take advantage of an easy and beneficial decision, which will save your family time, money, and hassle in the future: regular preventive visits with your Denver family dentist!
Are you looking for a family dentist in Denver, CO? Call Metropolitan Dental Care and we'll get you set up with regular preventive visits to keep your family's smiles healthy and bright.
One Short Visit, Twice a Year
Whether you've been pretty faithful with your family's dental visits, or need to be a little more regular—you can always count on good things coming from family dental visits.
Regular dental visits:
prevent cavities
help us detect cavities before they turn into painful toothaches
keep teeth looking healthy and bright
prevent the need for complex restorations, such as root canals
alert you to issues that may arise in the future
help us monitor tooth development and alignment in young people
Why Routine Visits Benefit Your Family
When it comes to your family's teeth, an ounce of prevention is always worth a pound of cure. Almost everyone will develop some dental decay in their lifetime. "Not such a big deal," you might think, "people also break their bones and twist their ankles!" The only difference with dental decay is that it can develop and advance with no discernable symptoms. Furthermore, cavities never, ever "cure themselves;" they only get worse.
Skipping even one routine dental appointment may lead to the development of a dental decay that requires a restoration. Skip more than one appointment and you may be looking at a complex (expensive, and time-consuming) restoration.
Delegate the Work to Us
Routine appointments are also a great place for your family to pick up good habits and useful information. If you feel like you always need to nag your family to brush and floss properly, we invite you to let us do the heavy lifting.
Our team of skilled dentists and dental hygienists stay current on all the best advice for proper oral hygiene habits. We love to teach our patients the best way to care for their teeth. With routine dental visits to your Denver family dentist, you can relax and leave the worrying to us.
Don't Let Avoidance or Anxiety Hold You Back
A lot of people—including good, smart professional people—have a tendency to avoid dental appointments. "My teeth are fine," they might say, "I don't need to see a dentist." In many of these cases, it's not the lack of concern that leads to missed appointments, but feelings of anxiety that make it hard to face facts.
The longer one goes without seeing a dentist, the worse the anxiety may be. For reluctant patients, we have a strict no-judgment policy at Metropolitan Dental Care. We are always happy to see new patients and help them get back on track with their oral health. If your family has a few reluctant members, we encourage you to make their appointments, anyway. If you can get them in to the office, we will make them feel welcome and safe, while reminding them of the benefits of dental appointments.
If you need a family dentist in Denver, CO, call Metropolitan Dental Care today at 303-534-2626.