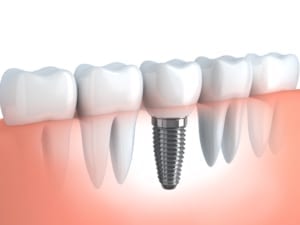 Traditional restorations require upkeep, maintenance, and continual replacement. If you are seeking a permanent solution to tooth loss in Denver, CO, Metropolitan Dental Care offers dental implants. The titanium posts are surgically placed in the jaw bone and can support a dental crown, bridge, or denture. Due to the advanced materials used and the surgical placement process, dental crowns are the only permanent solution to tooth loss currently available. 
How do implants work?
Traditional restorations are supported by nearby teeth or the surface of gums. Dental implants function more like natural teeth because the posts are anchored within the jaw bone. Dr. Mike Norouzinia, a board-certified periodontist, surgically places implants at our Denver dental practice. Once the implant has been placed, the surrounding jawbone tissue will integrate with the implant through a natural process called osseointegration. 
Dental implants are fabricated from advanced materials like titanium. Once your jawbone heals, you can enjoy the benefits of your implant for a lifetime. The titanium post will not wear down over time.
The custom restoration may require replacing. If your implant-retained crown, bridge, or denture requires replacing, Dr. Norouzinia can guide the fabrication and replacement of your prosthetic at our dental practice. 
Dental crowns have been known to last up to 20 years when properly taken care of. The actual lifespan of your implant-retained prosthetic will be determined by your diet, oral hygiene habits, how often you visit your dentist, and other factors. If your restoration is fabricated through Metropolitan Dental Care, Dr. Norouzinia will ensure that your prosthetic is made from strong and durable materials. 
How do I maintain my dental implant?
Dental implants will last for a lifetime, but the supporting bone and gums must remain healthy and free of disease. Following the surgical placement of your implant, you will enter a three to six month healing period.
During this time, it is important that your implant does not become infected. Refraining from smoking and excessive alcohol consumption will aid in the recovery process. We also recommend that patients eat a nutritious diet and follow good oral hygiene habits. 
Once your prosthetic is attached, it will need to be maintained and regularly cleaned. If your bite feels "off" or if you grind your teeth at night, you may be at risk of damaging your restoration. Let a member of our team know if this is an issue. You may be fitted with a custom-made dental mouthguard to protect your teeth while you sleep.
Scheduling twice-a-year visits to our Denver dental practice allows our doctors to inspect your restoration. X-rays and other images may be taken to assess the health of your jaw bone. By staying ahead of potential dental problems, you can prolong the life of your restoration and ensure that your dental implant remains securely in your jaw bone for a lifetime.
Schedule Your Dental Implant Consultation Today
Many of our patients have enjoyed the life-changing benefits of dental implants. Once placed at our Denver dental practice, the implant post can support prosthetics for decades. To schedule your consultation for this permanent solution to tooth loss, contact our office online or call (303) 534-2626.